The Best Cordless Orbital / Palm Sander Review 2021
Not a week goes by that I do not use my DeWalt Palm Sander, and now, in conjunction with my Milwaukee Cordless Orbital Sander. There is no doubt, these are the tools that I use most often.
If you work with wood in any form, whether refinishing furniture, painting or staining wood trim, doors, flooring or decking, the need to own one of these sanders is a must. Although, not necessarily exclusive to wood only, these sanders allow you to easily achieve a smooth finish and help to  shape wood, remove rust, paint and other finishes, and a to create a refined, smooth finish for your project, The Orbital and the Palm Sander are heavily used by anyone from the Do-It-Yourself (DIY) homeowner,  to the seasoned pro and craftsman.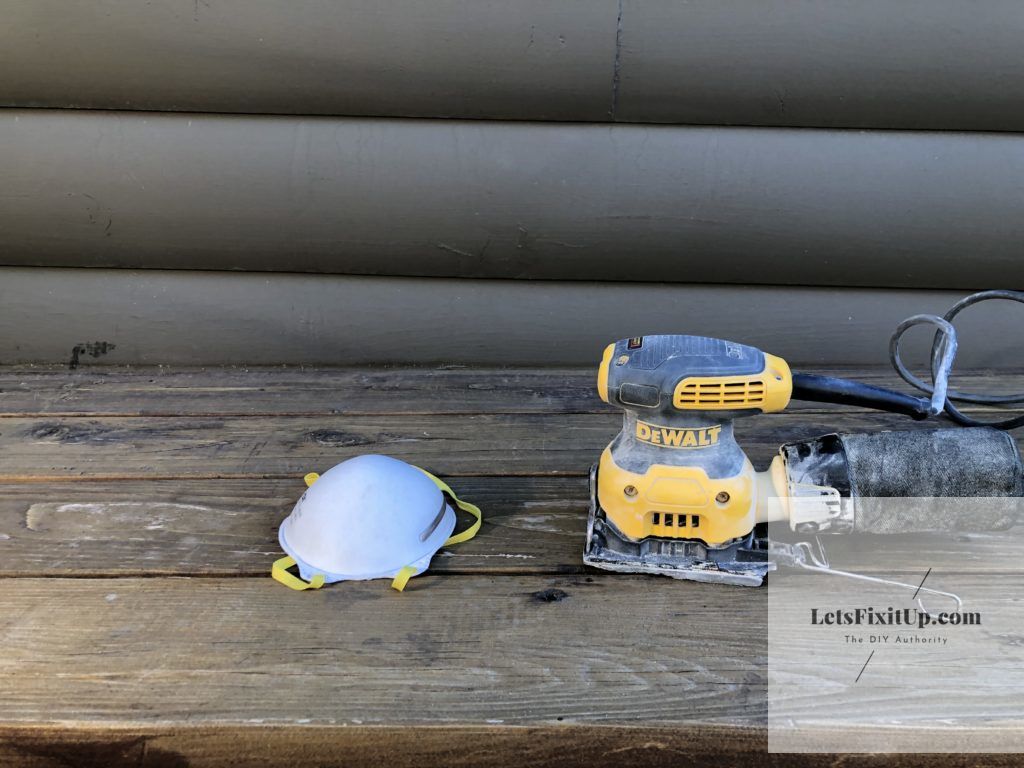 The Palm and Orbital Sander with electrical cords are great, however. there are distinct advantages of having Cordless tools. The obvious advantage being that you do not need a nearby electrical outlet and that you do not have to drag a cumbersome electrical cord around with you. So, although the sanders with cords should never be taken off the table as a purchase option, this article features what we believe to be the best of the Cordless Sanders
No products found.
LetsFixItUp would like to point out the  different types of Cordless Sanders, and which one might be best for your specific needs. Let's take a look at two of the most commonly used sanders:
Comparison Between Orbitals & Palm Sanders
The Main Differences Between Orbitals vs Palm Sanders are as follows:
Orbital sanders are a heavier duty tool, the Palm Sanders are smaller and are lighter weight.
Orbital sanders work much better for larger sized projects, the Palm Sander is  much better for the smaller more refined work.
Orbital  sanders work quickly and more efficiently on larger and rougher projects, versus the Palm Sanders ability to achieve a much smoother result.
Orbital sanders are more expensive, the Palm Sanders are more affordable
Basic Operation and Function
Orbital Sanders operate by utilizing a  spinning sanding disc, that rotates in relatively small circles (or orbits). They are often square shaped (sometimes they are round) allowing them to get into corners and edges with ease. They can be used on a multitude of surfaces. The size that is most commonly used is quarter sheet sander due to  the size of a quarter of a sheet of standard sandpaper. Orbital sanders have a tendency to leave little swirl marks, so dependent on your specific needs and requirements you will need to decide what is best  
No products found.
Revolutions, AMPS, Power
Power is measured by amps (the higher the number, the more powerful the tool), additionally, revolutions per minute is also a consideration. Of course this is just another way of saying how fast the speed of the tool is. The basic standard is between 9,000 – 11,000 / minute. Many models have adjustable speed control settings. Having this ability to adjust the revolutions is a great way to fine tune your tool to the type of work or project you are doing.
Random Orbital Sanders
If you are in the market for an orbital sander, you need to be aware of a slightly different type, the random orbital sander. These tools differ, as the sander moves in a different way to a regular orbital sander, it spins and rotates simultaneously, allowing or resulting in a reduction of marking on the finished product.
The Random Orbital Sander is not powerful as a regular orbital sander, however, it is a bit more versatile It has a circular sanding pad instead of a square pad allowing you to vary the angles as you work on your projects. I guess an increased amount of versatility is its main attribute.
#1 Cordless Orbital Sander
Milwaukee Electric Tools 2648-20 M18
I'm not going to lie, this is the sander I own and I love it, even with it's funny crooked look! As with almost all cordless tools the batteries are sold separately because they are inter-changeable with other like brand cordless tools. The M18 designation indicates the battery size and power capabilities
No products found.
Finishing Orbital Sanders
Finishing orbital sanders are much smaller and lighter, this allows it to reach hard to get to areas.
Pros of Orbital Sanders
Can work very quickly, which is great for bigger projects
The square shape means you can fit into corners with ease
Works well in tight spaces
Cons of Orbital Sanders
May leave behind marks
Will not remove a huge amount of material
No products found.
#1 DeWalt 20Volt Max XR (DCW200B)
We cannot deny it…Price, price, price and durability!
No products found.
Palm Sanders are smaller than orbital sanders.. They are also known as sheet sander. Like an orbital sander, it's square-shaped, which makes it great for getting into corners and difficult to reach places.
It uses a back and forth, patterned motion as opposed to an elliptical one. You must cut the sandpaper into quarter sheets and replacement of the paper is done with some frequency as each sheet does not last to long. 
Best Uses For A Palm Sander
If you are working on smaller projects, or you if you believe that you won't be using a sander  often, a palm sander just may the the right selection for you. Even so, their diversity will allow you  to work on most smaller DIY projects, they are lightweight and great for most uses.
The  smaller size of the Palm Sander allows for more precision work, and they do not leave marks as the larger orbital sander does, if you want to prepare a piece of wood that has been treated or painted, a palm sander is a great choice.
Power
A palm sander is a little less abrasive than an orbital sander. A smaller motor will be great for most  home projects that you may find yourself doing. A
Grip
Palm sanders are easy to use and are lightweight. Allowing you to easily grasp or keep hold of it as you work. 
Pros of Palm Sanders
Compact and lightweight
You can use it with a regular sandpaper
Cheaper than orbital sanders
Doesn't leave as many marks as an orbital sander (with practice!)
Cons of Palm Sanders
Sandpaper usage is high.
Does not collect  dust well.
Less affective when working with larger pieces of wood or other materials.
Size
The most common size of palm sander is a half-sheet or quarter sheet sander size. The smaller size is better for more detailed work, and the larger size is a better selection if the work you are doing has large surfaces.
Conclusion
The sander you should ultimately purchase is largely dependent on what type of work you will be doing most. 
If you are attempting a full home remodel you will have numerous projects to finish, or if you simple like working with wood a lot,  then you likely will get much more use out of an orbital sander.
The increased power and speed means you'll be able to work a great deal faster and efficiently, and that makes it a very flexible tool. The use for an orbital sander is multi faceted If you decide on a random orbital sander, you will avoid the majority of markings that a regular orbital sander will likely leave behind.
On the other hand, if you only plan on using a sander occasionally, and you and you will not be doing many large pieces, a palm sander could work great. If your main use is working on wood furniture, then a palm sander will probably be the better choice for you, as it is more suited for smoother finishes and for more intricate work.