Renovation Series: Creating an Apartment Renovation Plan
The goal for these apartments is to maximize the rental income by making sure that everything is in good working order. Replacing broken items, making sure the apartment is safe, clean, and a comfortable living environment for the new tenant.
In the long term, it is not only our intention to maximize the rental income, but to increase the value of the entire property. Apartment units are valued at their per door price, based upon the rental income of the property itself.
There are a few factors to consider when entering into an apartment renovation such as this —
Define your purpose/goal
Do nothing to the property: The absolute bare minimum of expenditures. Expect to attract the lowest caliber of tenant, collect rent with your pistol and expect the value of your property to diminish. THIS IS NOT A REASONABLE OPTION. No renovation… little to no profit!
Clean up the apartments superficially: Paint the walls, dispose of excess junk, clean. Resulting in a slightly higher caliber of tenant, slightly higher rent and most likely less problems. Probably will not increase the value much.
Maximize the rental income without full on complete renovation:  Make sure that everything is in good working order, replace broken items, make sure the apartment unit is safe, fully functional and that it provides a clean, comfortable living environment for the new tenant. Increased likelihood of good tenants, slightly less rental income than option 4, but less upfront expenditures. This goal could also be implemented for a long term ownership and cash flow strategy.
Complete renovation and updating: Install new appliances, washer and dryers, dishwasher, lighting, updated wiring, new HVAC system, new floor coverings, tile, counter tops and sinks. This will increase the likelihood of really good tenants exponentially. This could either be done for a long-term investment or to maximize rent, thereby increasing the value for a sale. This option would take a few years to recapture the expenditures to update the apartments.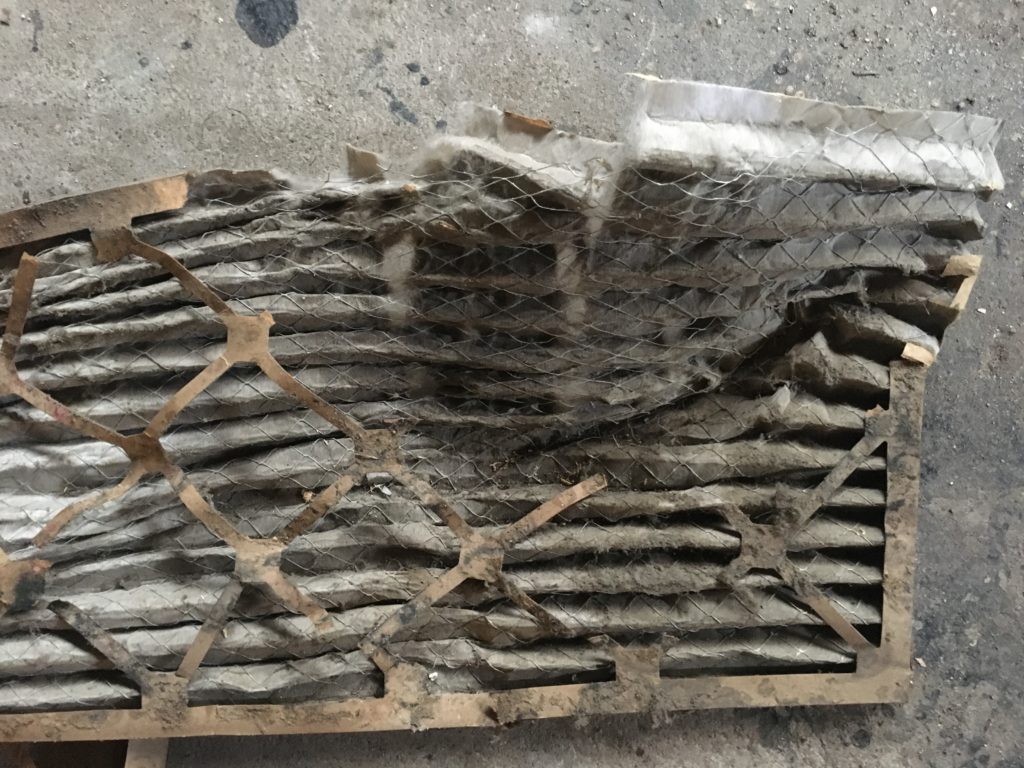 The goal for these apartments is consistent with goal 3 outlined above. We would like to renovate, utilizing existing materials, appliances, floor coverings and fixtures to the extent possible, while increasing the quality of tenant and the rental income. The reason that my partners and I have decided to go this route: our short to mid-term goal is to have this property re-zoned to a higher density, raze the existing three apartment buildings (13 units) and construct a high-end, high density luxury apartment project at this location. The absolute timing of the process is impossible to determine, thus we have elected to place enough capital into the existing apartments to sustain a good cash flow while we work with the city and other entities to change the zoning. Additionally, in the event we are unsuccessful in our efforts to re-zone, we are left with a property that is operating nicely, that we can then hold for an indefinite period of time, or sale the property for a nice profit. In coming articles, we will look at a comparison of why and how it may make sense to maximize the density of a given piece of property.
Besides the fact that the apartment was utterly filthy, and it looked as though it had not been cleaned in years, it, for the most part, in fairly good working condition. The kitchen had the original aqua colored tile with matching range. The bathroom also had the original pink and green tile – surprisingly all of it in mint condition. Great vintage stuff from the late 50's and early 60's!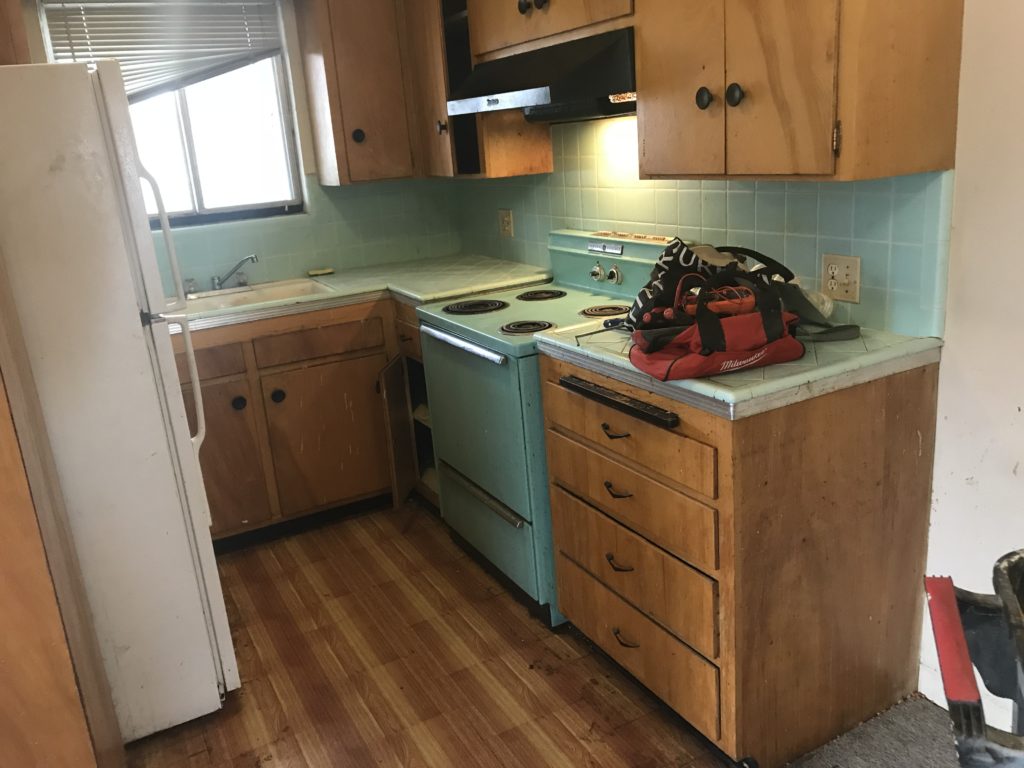 The process followed to renovate this apartment:
Removal of all carpeting
Remove tack strip, nails and staples from hardwood flooring
Refinish white oak hardwood flooring (refinishing hardwood floors guide here)
Repair walls, ceiling and woodwork (patchwork prep for painting)
Paint entire apartment unit (Sherwin-Williams "Everyday White")
Replace 4 light fixtures
Replace all outlet and light receptacles switches with white finish
Clean tile and grout
Replace two heating elements on range
Remove all old caulking from tub, sinks and tile edges.
Re-caulk (silicon caulk around tub, sinks and tile)
Refinish worn and faded wood cabinets
Repair several miscellaneous broken items
Install all new window blinds
Extensive cleaning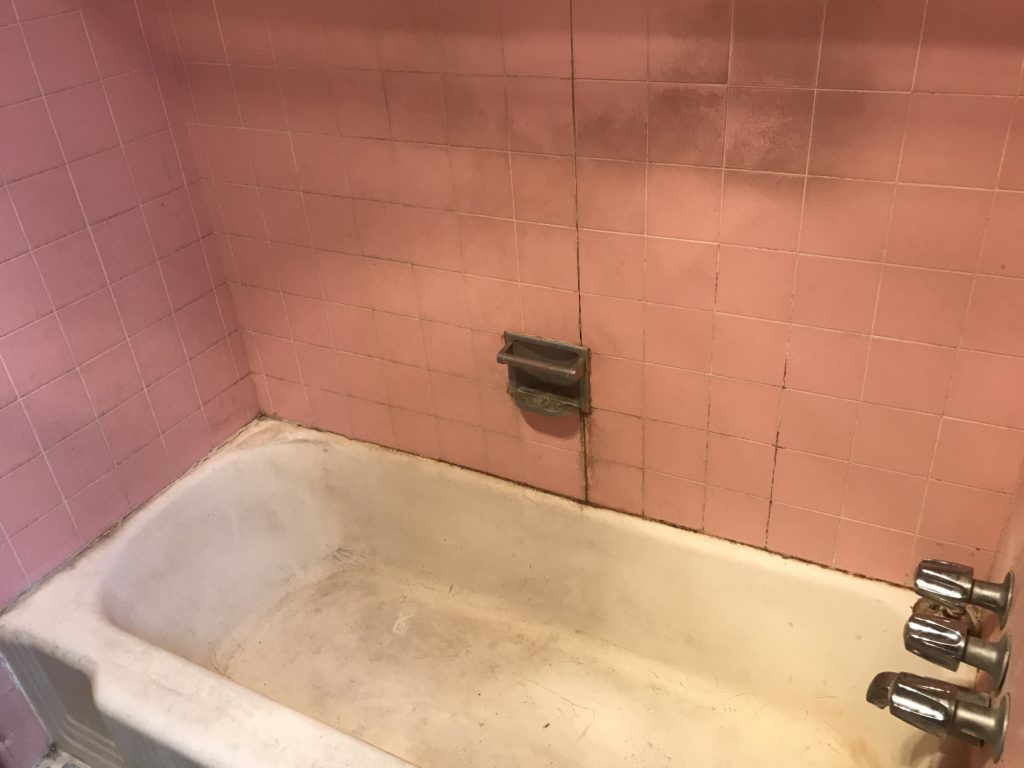 Renovations can be very extensive to simply cosmetic. In our series we fall somewhere in between.
I have renovated 5 of the 6 units in this apartment building. This particular unit represents the last remaining apartment unit. The lease rates on this apartment building average $550.00 per unit. Following the renovations of the other units I was able to achieve rents of $950.00 per unit. The renovation process took from 2-3 weeks on average and the expenditures averaged roughly $2000.00. This represents a 90% increase in rent revenue, for only a $2,000.00 investment if you are able to do most of the work yourself, and quite honestly, anyone can with a bit of patience and education. Okay,some quick math. $550.00/unit x 13 units = $7,150.00/month or $85,800.00/year compared against $950.00/unit x 13 units = $12,350.00/month or $148,200.00/year. A dramatic increase! Add to this the caliber of tenant dramatically increases, which equates to a significant decrease in rent collection problems and much less tenant turn over and associated expenses.
Here is another way to look at it…
The math is simple, I purchased a run down neglected property  consisting of (3) buildings on 0.62 acres of land in a great neighborhood for $78,000.00/door. As mentioned in a previous post, there are 13 apartments, so 13 x $78,000.00 equals $1,014,000.00, plus some closing expenses (no realtor fees, however). With some significant, but by no means complete renovations, I was able to almost double the rent revenue in just over a years time, doing all of the work myself. These renovations, coupled with a thriving housing market are now valued at a $180K-$200K per door, conservatively. $180,000.00 x 13 totals $2,340,000.00. Less the roughly $2,000.00/unit in expenditures or a total of ($26,000.00) and of course other miscellaneous expenses for the year (~$20,000.00). As you can plainly see, the value of this property has more then doubled. The economy most certainly has been a factor, but some ingenuity and know-how has transformed this into a great investment.
In coming articles, I am really excited to discuss how to find these type of properties and some strategies on how to finance them. But for now, I would like to focus on the "how to" of the renovation process. You can do it just as I have!