The Best Chainsaw – Buying Guide & Review
When I think of chainsaws, I think of Stihl!
Plain and simple, you cannot have an honest discussion about chainsaws without understanding that Stihl is a huge part of the equation. Stihl is synonymous with Chainsaws. I have read several reviews on chainsaws, and many of them do not even mention Stihl.
There can be only one explanation for this, the review is not honest, due I suspect, to the fact that the Stihl brand is not sold through that particular reviewer, or through any distribution source of that reviewer, hence, they would not be getting a portion of the sale as an affiliate. Why promote something you don't sell? That is the only possible explanation. This should cause one to pause and consider the source or the connection of the review and the product being sold.
The Best of the Best Chainsaw
Table could not be displayed.
STIHL MS 880 Magnum

The Stihl MS 880 Magnum and a handful of other upper end Stihl chainsaws, are saws for the professional. These saws are designed for the big tasks, these saws are ideal for felling and bucking large diameter trees. These heavy-duty chainsaws offer maximum power for the most demanding cutting conditions. It is impossible to compare apples to apples here, because no other brand makes a beast like the STIHL MS 880 Magnum and its line-up of professional saws, they are in a class of there own, but the price does reflect it at a whopping $1,800.00 – $2,200.00 depending on chain bar length.
Another Option: STIHL MS 251 C-BE
This Stihl chainsaw is powerful and fuel-efficient, yet it is also easy to start and adjust. Ergonomically designed to bring you maximum comfort during use, this tool produces 50 percent less emissions (as compared to previous models) for a smaller impact on the environment. The MS 251 C-BE includes features like Easy2Start™ technology and easy-to-refill fuel and oil tanks, so you can worry less about starting and operating your equipment, and have more time getting your outdoor jobs done. And with its Quick Chain Adjuster, you can make sure you have proper tension on your saw chain without the need of additional tools.
The Best Chainsaw on Amazon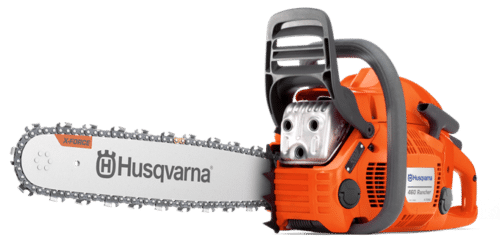 For the rest of us, the occasional user, the non-forester or even many landscape professionals that are not felling massive trees on a regular basis, the saws featured below should prove more then adequate. If you desire to purchase a chainsaw and want the best combination of power, durability and portability available, there's just no substitute for a gas chainsaw, therefore, electric saws will not be part of this review. You can buy a gas chainsaw for light pruning and forest clean-up, or simply for around your own yard and home. There certainly is a wide range of gas-powered chainsaws to choose from.
Husqvarna 460 Rancher
For Chainsaws in the $400-$500 range the Husqvarna 460 Rancher is hard to beat. With the 24″ chain bar and more powerful engine Let's Fix It Up picks this the best saw you can buy on Amazon.
Honorable Mention
Husqvarna 440 Rancher, 16 in. 40.9cc 2-Cycle Gas Chainsaw
Powerful, yet affordable. Coming in at about 10 lbs, No products found. will handle the mid range to easier projects around the yard and home. Easy to maneuver and operate for those that may not have previous experience using chainsaws. A great choice for anyone not looking to break the bank when purchasing a chainsaw that may only get used once or twice a year.
Less Expensive Chainsaws to Consider
In the under $200.00 category you simply cannot beat this saw. No products found. is easy to start and easy to handle. It will handle all light weight to medium projects that you will encounter. Let's Fix it up believes this saw offers the best bang for your buck within this price range.
No products found.
A General Guide for Choosing the Right Chainsaw
A 12-inch to 14-inch bar typically utilize an engine in the 30cc to 40cc range. This is a tool that is light light and easy handled– a saw that is best suited for clearing overgrown areas, pruning, lopping, and cutting logs. It's capable of felling a smaller sized tree, but it's not used in that capacity on a regular basis.
A 16-inch to 20-inch bar typically utilize a chainsaw engine in the 40cc to 60cc range. This chainsaw as could be considered a mid-range capacity tool. These are powerful tools that can handle just about anything having the capacity to work just as hard as you are willing to.
Bars of 20 inches and longer are found on chainsaws used by the professional. big tools for heavy-duty logging over extended periods of time. These gas-powered beasts command a considerable amount of money and a degree of skill that the periodic user simply does not possess.
Power — How Much Power Does My Chainsaw Need?
Gas powered chainsaw motors encompass a range from about 35cc to 80cc. Saws in the 35cc to 45cc range could be considered homeowner chainsaws. Producing approximately 1.5 to 2 horsepower, these saws would be used for pruning, yard work and branch clean up.
Moving up to a saw in the 50cc to 60cc range, gas chainsaws of this size my be known as "ranch" or "farm" chainsaws. Producing somewhere between 2 and 4 horsepower, these chainsaws will handle a heavier workload. Most consumers and homeowners alike, would discover that the work capacities of these saws will more then meet their needs.
The largest of chainsaws with motor capacity exceeding 60cc, will put out power in the 4- 8 horsepower range. These are chainsaws for the professional.This size is what the logger would utilize for tree felling.


Chainsaw Bar Length
The blade that the cutting chain runs around is called a bar. Different bar lengths offer different cutting capacities. Chainsaw's bar length should generally be a consideration for the type of cutting you will be doing.
Depending on the skill level of the user, even the smallest of bar lengths can be used to fell many smaller tress. But as a general rule of thumb, the motor capacity on a smaller chain bar gas chainsaw will not provide enough power for this type of cutting..
Chainsaw Safety Concerns
Wear appropriate clothing, not to loose.
Appropriate footwear (Boots if possible)
Have good footing, do not extend you ability to control the chainsaw.
Understand how to operate your chainsaw
Always wear eye protection and ear protection.
Start the chainsaw on the ground. On most gas chainsaws, the rear handle is designed so you can put your foot in there to keep it steady.
Wear appropriate work glove
I recommend wearing a dust mask.
Be aware of Kickbacks, it is the most common cause of accidents when sawing.
Make adjustments to your chainsaw in the OFF position.
Keep your work area clear and be aware of your surroundings.
Be cautious of sparks and of fuel spills that could start a fire.
Use a sharp chainsaw chain.
If your chainsaw is smoking or choking, check that the air-intake slots are not blocked by sawdust or debris.