The Best Circular Saw – Complete Buying Guide & Reviews
The Circular Saw is without a doubt one of the most necessary tools for DIY'ers and the professional a like. What ever you are building, walls, decks. fencing you name it, if it involves wood then it is highly likely that you will need a circular saw to complete it.. Before we launch into which circular saws are the best, let's touch on just a few simple features and differences the circular saw can possess.
Types of Circular Saws
Corded vs. Cordless Circular Saws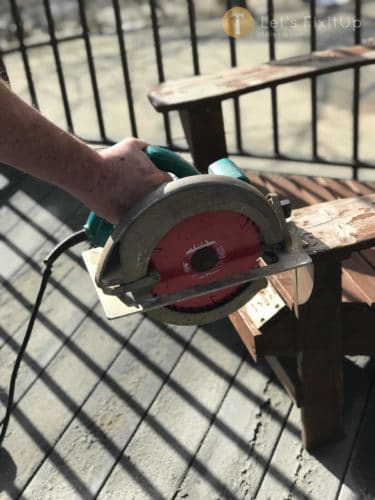 As is true with almost all power tools today, you have the option to purchase a tool that is corded or cordless, this is the case with the circular saw. Corded circular saws most often come equipped with 15-amp motors that provide ample power and torque to easily manage your wood cutting projects
Although Cordless circular saws have similar blade rotation RPM's similar to the corded saw, they are far less efficient when it comes to torque, or the ability to maintain its power when actually cutting. Torque is the most important component when considering circular saws.
Corded circular saws maintain there power with no significant reduction in torque as opposed to their cordless counter-part. Also, a major consideration is that as a cordless circular saw can quickly see a reduction in power as the battery power level begins to diminish. With a cordless Circular saw, make sure you have at least one extra battery on hand, preferably more.
The obvious advantage of the cordless circular saw is the mobility it offers, as often, on many projects, a power supply may not be readily available. Having the option to take your saw virtually anywhere, without the cumbersome cord and not having to plug into a power source or to plug in and out repeatedly when using multiple tools is a time saver, in addition it can reduce frustration with tangled cords and so forth.
Cordless circular saws, as a rule, are more expensive then a corded model, and the saw blade diameter is typically smaller. Cordless saws generally have a 6 1/2″ blade and the corded models typically have a 7 1/4″ blade. The smaller blade definitely diminishes the overall cutting capacity of the tool.
Sidewinder
Sidewinder a.k.a the in-line saw. This type of circular saw is the saw that is most common and could be considered as the most popular or preferred type of saw. The sidewinder's is powerful and the cost is priced at a more reasonable sum then the Worm drive saws on the market today. For these reasons it is the choice of many contractors and homeowners alike.
The positioning of the motor is directly beside or adjacent to the shaft of the blade and aligns almost perfectly with it. This positioning make the saw smaller a perhaps, as many believe, makes it more functional and easier to use. Torque is bit less then the worm drive saws although the blade speed remains high. The light weight nature of the saw results in less fatigue and for easier overhead usage.
Worm drive
The worm drive saw motor is positioned directly behind the blade shaft; thus, there are gears in place that connect the motor with the blade. The effectiveness of the saw and the power generated make this the more enduring, and therefore, increases the longevity of the worm driven saws over its counterparts. The positioning allows for a better line of sight while cutting and also maintains is torque throughout the cut. For heavier work, the worm drive is definitely the way to go, however, if you find that you will be doing a lot of overhead type cutting the lighter sidewinder would be preferable. The worm drive saw can easily weigh up to twice that of a sidewinder saw.
Circular Saw Adjustments and Cutting Capabilities
The circular saw's cutting capabilities, whether a worm drive or a sidewinder, are calculated a couple of ways: 1- How deep can it cut 2- the angles that it can cut.
Depth of cut is calculated with the blade at 90° to the shoe or base of the saw. It varies depending on blade size, the standard 7 1/4″ blade will cut up to 2 1/2″. I do not recommend the smaller 6 3/4′ blade as you will find it just leaves the cut to short in many instances.
Circular saws will cut angles/ bevels up to 45° to the right or the left. Some saws come equipped with pre marked settings for the more common angles.
The Best Circular Saw You Can Buy
Table could not be displayed.
Okay, here it is! Based on extensive hours of use, of varying circular saws and numerous customer comment and reviews from a wide variety of sources, Let's Fix It Up has determined the following list of the best circular saws:
Makita 5007MG Circular Saw 15 Amp, 7-1/4 Inch

This saw is the most expensive in the group and for good reason, it is far and away the clear winner of our Best Circular Saw category.
We ranked circular saws in many categories, this includes bevel adjustments and height of cut, accuracy of our cut and ergonomics. This saw tops the list: the bevel stop setting are great. It handles extremely well and adjustment levers are easy and comfortable to use. The cuts where very accurate, the bevel detents are very accurate, and the various scales are easy to see. It also comes with a nice carrying case.
No products found.
Second Best Circular Saw
Porter-Cable PCE310 15 Amp, 7-1/4 Inch
Plenty of Speed and Power, Good Torque. For the Price you simply cannot go wrong. Porter Cable make excellent power tools and this circular saw is no exception.
For durability and affordability Let's Fix It Up loves this saw.
No products found.
Several Other Good Saws in our Review
SKILSAW Southpaw SPT67M8-01 15 Amp, 7-1/4 Inch
For many years I thought a circular saw was in-fact a SkilSaw. Circular Saws has always been synonymous with SKILSaw, This circular saw has everything the homeowner will require in a circular saw, quality performance with plenty of power. Laser line guide is awesome
No products found.
DeWalt DWE575SB, 7-1/4 Inch

This saw came in as the lightest saw of all of the saws that we reviewed. It does not contains a lot of features, but runs great, is very comfortable in the hand, easy to control has and good bevel detents. Let's Fix It Up recommends this saw highly.
No products found.
Milwaukee 6390-20 15 Amp, 7-1/4 Inch

Milwaukee is well know for making industrial strength tools,its circular saw lives up to that reputation. This saw has comfortable and easy to use levers. You just cannot go wrong with Milwaukee tools.
No products found.
Porter-Cable PCE300 15 Amp, 7-1/4 Inch
This Porter Cable saw is Priced right, and is lightweight and comfortable. It contains easy to use levers and has nice bevel detents at 22.5 and 45 degrees. In the final analysis, it's an excellent saw at a good price.
No products found.
The Best Cordless Saw:
If Cordless seems like the way to go for you, Let's Fix It Up recommends the following:
DeWalt DCS391B 20-Volt MAX
Plenty of power in the cordless category. Longer battery life then many of its competitors.
No products found.
Makita XSH03Z 18V LXT Lithium-Ion Brushless Cordless 6-1/2″
You can never go wrong with Makita tools
No products found.