The Best Reciprocating Saws – Complete Buyers Guide & Reviews
What is a reciprocating saw?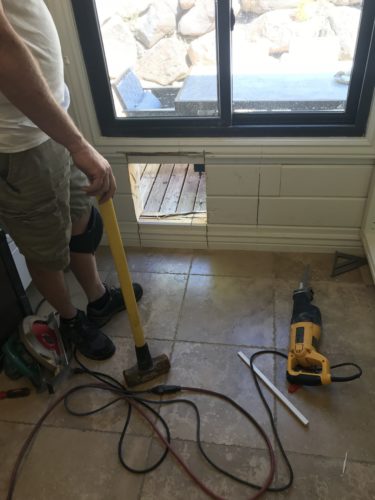 Reciprocating saws are must for any homeowner, they perform rough cuts for demolition projects and in various types of building materials.
A reciprocating saw is a powerful tool that allows  you to cut through a wide variety of materials to include, but not limited to wood, metal, masonry, stucco, masonry and a wide variety of other materials.
Virtually all trades within the construction industry own one or more reciprocating saws, as their usage is so diverse. There are several factors to consider when purchasing a reciprocating saw. Some of these considerations include blade movement, size, weight, power and access to power supply.
Here at Let's Fix It Up, we have tested and reviewed the top of the line reciprocating saws and found that blade travel, battery type (if cordless), weight and whether to purchase with cord or cordless were most important items.
When it comes to choosing the right reciprocating saw, it's all about finding the tool that suits your specific needs. Our top rated reciprocating saws are rated as the best because they're built for tough professional performance, but are reasonably priced for the everyday consumer. You can be confident when you purchase one of these saws that you're getting a saw that is going to perform to the best possible standard and quality.
Best Overall Reciprocating Saw
DEWALT DW311K 13-Amp Reciprocating-Saw
This DeWalt reciprocating saw rises above the rest because it allows you to cut through the toughest of materials that your project could have.. You can use the tool knowing that it can handle a wide range of projects, such as demolition work, remodeling, and building. You're going to find that cutting tasks are easier than ever, like cutting rough openings through walls and roofs, slicing through wood, metals and plastics , flooring and a wide variety of other surfaces. Powered by Dewalt's 13 Amp motor, this DeWalt saw has all the power that you need to get the job done right. Power, control and durability rule with this saw!
Best Overall Reciprocating Saw – Runner Up
DEWALT Bare-Tool DC385B 18-Volt Cordless Reciprocating Saw
Simply put, you can take this saw anywhere, the cordless feature allows for cutting where a power supply is not available. This is a high quality 18V cordless reciprocating saw from Dewalt which provides you with 1 stroke length and 2900 SPM for fast cutting. The quick change blade clamp allows you to change the blade without a key so you can quickly and efficiently do the job. The compact and lightweight design makes it easy to take this tool on the go and provides for ease of use in tight spaces. The grip does not slip and is comfortable in your hand increasing the control that you experience during operation.
Best in the "Also A Damn Good Tool" Category
Ridgid Orbital 18V Cordless Reciprocating Saw X4 R8641B Bare tool
This reciprocating saw from Ridgid offers a powerful 18 volt battery and provides you the option to add on with additional attachment kits allowing for more power tool opportunities.  This is the only pro cordless reciprocating that offers orbital action which will actually cut your project about 25%  quicker. The grip on this tool is exceptional which is a big deal if you are using the tool for any length of time.
This reciprocating saw made the Let's Fix It Up list because it delivers exceptional performance in a lightweight design.It is very reasonably priced, and yet,  it's constructed of the most durable materials and is made to last. Additionally, this saw will deliver on power!
Best Budget Reciprocating Saw
Black & Decker BDCR20B 20V MAX Lithium-Ion Bare Reciprocating Saw
The Black & Decker 20v MAX lithium  reciprocating saw offers you blade changing without the use of a key, it also offers variable speed trigger technology, and a pivoting shoe for ease of use. With 20 volts of battery power, you can be sure that you're going to get the performance from this tool that you need.  Included is the reciprocating saw and reciprocating blade, However, batteries are extra. Once all the components are complete, you will have a very good cutting accuracy and efficient cutting.
Black & Decker is one of the best tool makers in the world, and this reciprocating saw is a great demonstration as to why. I guess you could say that it is a cut above the rest.  One of the top rated saws on the market, this tool will make cutting easier than you ever imagined possible. Whether you're a professional contractor or just a DIY fanatic, you will agree that  this saw will to make your project much easier, and cut down the time it takes to cut wood and plenty of other materials.
Best Of The Rest
Makita JR3050T 11 Amp Reciprocating Saw
11-amp reciprocating saw with variable speeds and 1-1/8-inch-long stroke
Blade and shoe changes are quick and painless with tool-less adjustment feature
Ball and needle bearings extend tool life; externally accessible brushes allow easy maintenance
Includes plastic case for convenient storage
Measures 17-3/4-inches long, weighs 7.1-pounds; 1-year limited warranty
Makita makes damn good power tools. I own or have owned several of them over the years. The 11- amp is a great saw for the money, I consider bumping up to the 15 amp model for about twice thew price. Depending on the amount of usage it will get over the years the price just might be worth it. Either way your getting a fantastic saw.
Going Cordless
Here are some of the benefits about a cordless reciprocating saw, this includes the tools portability, increased cutting actions, and some variable speed options that may not be available with corded saws. Clearly when the saw is cordless you are able to bring the saw to any location regardless of power supply availability. No generators or extension cords required!
Increased Motion: You get more action with a cordless saw, because you can cut with the tool horizontally and vertically. It is able to make rough, hard to perform cuts quickly.
Variable Speeds Options: Cordless saws will often have  variable speeds, this  allows the user greater control of the saw. This  feature will allow the user to adjust the saw to the perfect setting for a more precision cut with the addition of added comfort.
Increased Blade Depth: Any cordless reciprocating saw provides you longer strokes then its corded counter part.. The longer depths provide the user a more aggressive and fast cut, in addition to making shorter depth cuts , which are ideal for plunge cuts.
Comfort and Convenience
Most jobs that require a reciprocating saw will require several hours of continuous work. That's why it's so important that the tool is comfortable to use. Working with these kind of tools can quickly cause fatigue from holding the tool at an upward angle for long periods of time. If you think you may be working with the saw overhead to any degree, then you may want to find a cord unit that is lighter in construction, as a cordless unit will have a battery and therefore be heavier in weight. If you're working in compact spaces then you'll want to find a smaller tool with improved maneuverability. Also, look out for an adjustable blade in addition to a rotating blade and handle.
Look for a saw with a well-balanced design, this provides the user greater control and comfort especially when in use for longer periods of time.  vibration causes discomfort and fatigue in addition to decreased precision. Look for  a saw that minimizes vibration.
Additional Benefits
When using a reciprocating saw, you most likely are performing rough, tough work that wears quickly on the saw blade. To have  a saw that does not require a key for blade changing is a must, this increases the tools and therefore the users  efficiency and makes for  much easier  blade replacement. Additional benefits include a flexible cord, which will increase the saw's flexibility. A portable hard plastic container for easy transport and storage are a must for the reciprocating saw.
Adjustable Shoe: When you have an adjustable shoe you are afforded more control and stability. These have numerous positions for enhanced use, and they can be adjusted without any need for a specialized tool. This will also offer you blade visibility and the opportunity to cut in various positions.
Orbital Maneuverability: If you purchase a reciprocating saw with orbital action, you'll have a tool that can move both horizontally and vertically for super fast cuts. This will also give you consistent sawing speed no matter what the tool's position might be. When you have variable settings, you can cut materials such as meta at slower speeds for more effectiveness.
Storage Case: A storage case will help to keep the tool protected when it's being transported. The case will also keep accessories with the saw at all times.
Variable Speed: With a variable speed  saw, the user can select the proper speed for the difficulty and type of material that you're cutting. This option will give you improved precision and more consistency when you're cutting.
Summation
A reciprocating saw is an "Must Have" tool,  there are many to choose from, Let's Fix It Up hopes that this review can narrow the list making your decision easier. When you have made the decision to purchase a reciprocating saw choosing one of these top rated saws would be an excellent choice. Let's Fix It Up and the consensus on consumer reviews agree that the saws reviewed here represent the best of the best.
The reciprocating saws represented here are the very best because they are durable and will last for several years, they are comfortable, easy to use and built to outperform the rest. Regardless of whether you select a corded or cordless saw, one of these models will perform and provide the results that you demand.
Depending on the level of usage, you would be advised to choose a reciprocating saw that provides more power. The cordless versions will offer you more flexibility, in addition to the freedom that comes with the ability to move around without worrying about a power source. I prefer the plugin models that a corded reciprocating saw provides, giving you full power at all times, and access to power that does not run low on power when the battery gets low. Additionally, the cordless models are heavier due to the large capacity batteries that they require.
If you require more flexibility than a corded reciprocating saw can provide, it's important to purchase a cordless saw with high power levels such as an 18 volt or 24 volt device. Always try to bring an extra supply of batteries for your project to ensure completion, there is nothing more frustrating then falling short of the finish line due to the lack of power.