The Best Wet/Dry Shop Vacs — A Review
A Guide to the Best Wet / Dry Vacuum
Determine how you will use your new vacuum!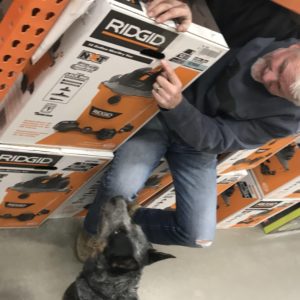 The first and most important consideration is what will you be using your new Shop Vac for. Whether it's for heavy construction projects or simply to clean your garage floor and vacuum your car's interior. This guide will help you to determine what is right for your needs.
As with many products and tools, there is a wide price range in the large market of wet/dry vacs, also referred to as shop vacs. We've concentrated our reviews  on residential and light commercial consumers' needs.
Just be aware that there is a large selection of commercial-grade wet/dry vacuum's on the market as well, where prices are generally well above what the residential or light industrial models are priced at.  However, as stated above, this review will focus on the practical everyday use models.
As a general rule of thumb, the price point usually determines the type of material, accessories and construction quality that the shop vac with have.
Key considerations when you purchase your Wet / Dry Vacuum
Ease Of Use
Maneuverability / Bulkiness
Hose and Power Cord Length
Tank Size
Features and benefits
Is the vac equipped with a blower?
Does it have a tank drain?
What attachments and accessory tools does the vacuum come with?
Quality of construction and materials
Maximum horsepower
Price
How do various makes and models compare?
Is the cost of the machine in line with the functionality that you need?
What is your budget?
Best Wet / Dry Vac
OUR #1 PICK (BEST CHOICE)

No products found.
We love this vacuum due to its powerful motor which allows for awesome pick up ability. The quality stainless steel construction and a tank that is just the right size along with its  positive latch system make this the preferred Shop Vac ( many other brands have problem with the lid coming off or loosening during usage and/or transport) This vacuum is durable, tough, tried, true and tested. Priced significantly less then other comparable brands. Hands down Shop Vac 5979403 is Let's Fix It Up's  #1  Best Choice.
Our Second Choice Shop Vacuum
No products found.
Although powerful enough to do the job, the Rigid Wet/Dry Vacuum in our experience has its draw backs when compared to the Shop Vac  5989400. The casters at times become unseated, leading to a certain amount of frustration and the latches holding the motor  assembly / canister would often come loose, mainly during transportation. Although we like the Rigid brand in general, the larger 6.0 horsepower motor comes with a tank that we consider to large and cumbersome at 14 Gal.  and at last check,  this unit is priced considerably higher then the Shop Vac  5989400. For these reasons it has made second on our list.
A Good Alternative Choice
We also like the RIDGID 50323 1200RV Wet Dry Vacuum, 12-Gallon Shop Vacuum as a cheaper alternative.

No products found.
Best Budget Shop Vac
Why we chose this budget wet/dry vacuum
No products found.
The Final Analysis – Wet/Dry Vac
It's not always easy to determine a clear winner considering the multitude of uses, the size differences and built in design usage application of each wet / dry vac. However, as an overall consideration of price, durability and suction power,  the Shop-Vac 8 gallon 6.0 Peak HP Stainless Wet Dry Vacuum is our #1 choice overall, for full-size best value.