Inexpensive Ideas to Freshen up your Kitchen
You don't have to spend a fortune to give your kitchen a face-lift. LetsFixitUp has some cool ideas that will achieve a fresh new look without breaking the bank. With a relatively small investment and some easy to learn handy work, these ideas can be completed on your own, giving your kitchen a fresh new eye opening pop! For those that have never tried such things, check out these links to our "How To" videos that will guide you through each step.
Back-splash- Peel and stick tiles for the kitchen back-splash.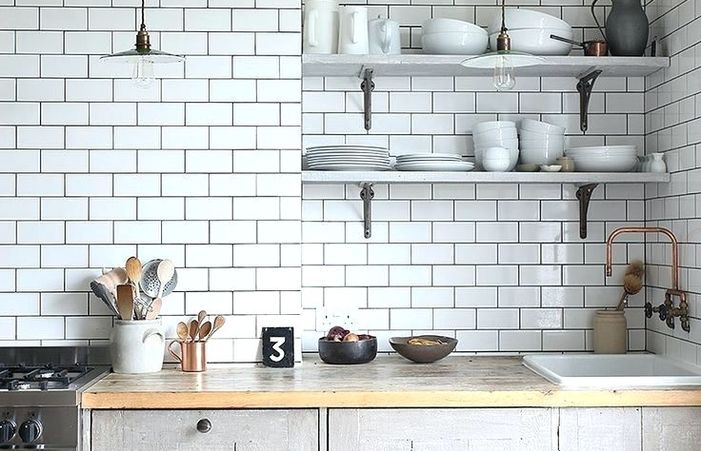 There's no better way to incorporate style and class into an a frequently over-looked  space of your kitchen, than a nicely selected, patterned back-splash. With easy to install peel-and-stick tiles, available in virtually any design, you can accomplish a high end look at a fraction of the cost of traditional tile. And part of the beauty is, you can easily do it yourself. All the tools you will need is a tape measure, straight edge and a utility knife. So simple!
No products found.
Peel and Stick Wallpaper as an Alternative to Tile
Although not quite as realistic as Peel and Stick tile, many believe that the wallpaper is a good alternative due to the price and easy of installation.
No products found.
Paint Kitchen Cabinets- A fresh coat of paint to brighten them up
Due to the cost of new counter-tops, appliances, and kitchen cabinets, it's no wonder why renovating a kitchen is by far the most expensive update in your home. . Short of all out replacement, there is really no way to change the  look of an out-dated refrigerator, stove or old counter-top surfaces. But no need to fret, because the kitchen cabinetry is often the most visible component of any kitchen. By in large, by freshening up the cabinets with a thoughtfully selected color and coat of paint, you will be able to transform most of the room's visual space, thereby achieving an entirely updated feel.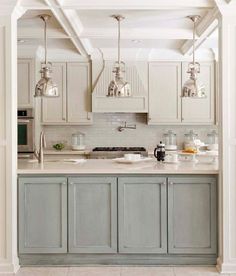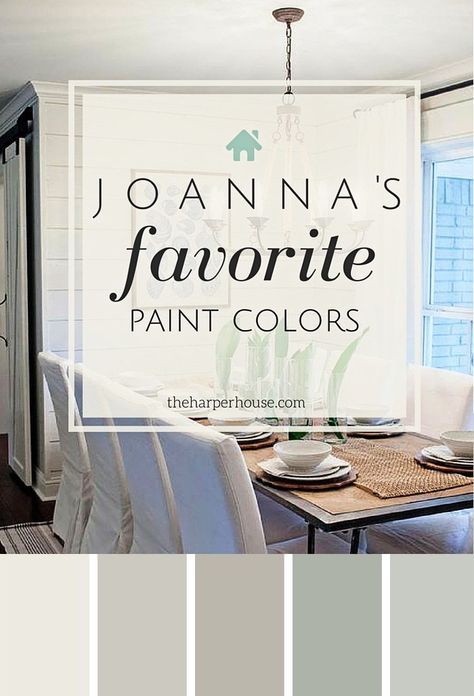 On the popular HGTV show "Fixer Upper" Joanna Gaines utilized many color combinations, but if you just cannot decide you can never go wrong with a bright off-white.
With the proper preparation you can make almost any set of old cabinets look like a million bucks. Check out this handy tool as you begin to prepare your cabinetry.
No products found.
Kitchen Cabinet Hardware- For a Unique Stylish Look
These Copper Kitchen Handles are Mega cool. A LetsFixitUp.com favorite. Over-sized drawer pulls have recently been all the rage, and for good reason, the are incredibly nice looking and very functional. Over-sized pulls typically range in size from 6-21 inches long. The longer pulls are typically used vertically on taller cabinets, in addition, they are used for large horizontal drawers.
Contemporary styling is often about simplicity, and that can make cabinet hardware choices difficult. A modern-style home or apartment kitchen can benefit from fitting stainless steel finger pulls against light-colored cabinets and counters.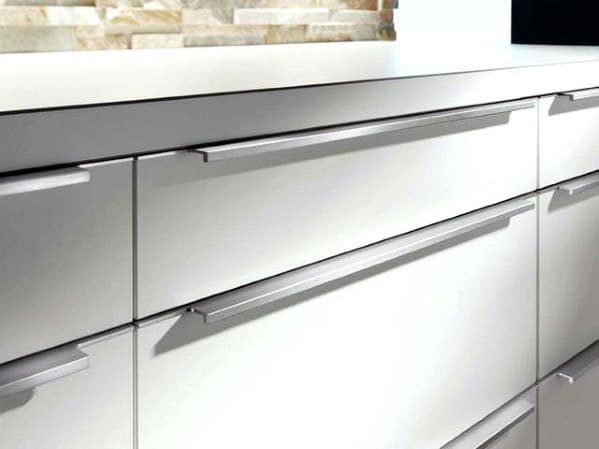 Whether contemporary, rustic or mid-century modern, there are literally thousand of hand-pulls and knobs to choose from. Check out some of the kitchen cabinet hardware styles and prices here on Amazon.
No products found.
New Lighting- Nothing brightens up a kitchen like new light fixtures
Chance are, that if has been a few years since your last kitchen update, you will have incandescent light fixtures. I will be an absolute must to replace them with LED recessed light fixtures. LED recessed light fixtures provide ambient lighting properties which allow for an even, consistent level of light throughout your kitchen space. LED lighting allows for smooth dimming capabilities with LED dimmer switches so you can control the look and feel of your kitchen space. The recessed LED lighting systems are not only beautiful looking and modern, but additionally, they provide more light with less energy, and the bulb will last for up to 20 years or more.
A recessed LED lighting kit is ideal for new construction as well as retrofit fixtures. They are very easy to install and require very little, if any cutting and drywall work and repair. Placement of the lighting is a key to successful ambient lighting, you will have to think through which areas are your essential work areas, in addition, the size of the kitchen is an important factor. If your kitchen is narrow, then a single row of 2-3 fixture should work quite well, however, if your kitchen is large, an appropriate grid system will need to be incorporated.
The 4000K LED bulb is generally consider the best color temperature for your kitchen. It provides a color spectrum of lighting that is lively and expresses an bright ambient light that makes for a great work space, yet with the dimming capabilities as mentioned above, can be softened for more casual moments.
No products found.
Track Lighting
To incorporate the designers touch to your kitchen you may wish to consider adding some track lighting. There are several locations in your kitchen where you should consider track lighting as an addition or complement to LED recessed lights, above an island or peninsula, over the kitchen sink or centered over a kitchen table. Track lighting will hang from the ceiling and is positioned on mounts or on tracts, allowing you the ability to adjust the lighting in variable positions. A thoughtfully selected decorative fixture will enhance the  ambiance of the kitchen area, especially when incorporated as an addition to LED recessed lighting. Track lighting works and looks the best when the kitchen area is on the larger square footage side of things.
Be creative and have some fun with it!
No products found.
Under The Cabinet Kitchen Lighting
An updated kitchen would not be complete without some thoughtfully placed under the cabinet lighting. Not only is your kitchen an often used workplace where the right amount of light is critical, it is an opportunity to set the right mood  Under cabinet lighting is the ideal lighting space to improve the environment and efficiency of the kitchen.  Small down-lit pendants lights can also be used in this area and can be designed to create a dramatic effect.
No products found.
The Kitchen Faucet- Replacing the Kitchen faucet is a matter of aesthetics and functionality
The kitchen is the heart of the home and the sink area is the heart of the kitchen, it stand to reason then that the kitchen faucet is a dramatic part of as it relates to style and function. It's is critical that you choose a  kitchen faucet that will make your daily involvement with the sink stress free and easy.. Ranging in price from under $100.00 to several hundred,  make sure you pick the No products found. that is right for you.
There are so many brand and models to choose from the selection can seem overwhelming. Faucets that pull down with long necks, detachable spray heads, and long hoses. These are great and provide options that not to long ago simply did not exist, they are an awesome departure from the standard fixed-neck faucets that many of us grew up with. The extendable hoses now allow  us to fill a tall bucket that can't fit under the faucet. The functionality is great
Many kitchen faucets are classified according to their control designs. In today's world, we now have the option of selecting faucets with motion or touch control technology, which have been on the rise for the last several years. Single handles faucets in addition to double handles still remain two of the most popular styles.
Many of the faucet manufacturers are now developing voice command processors for their kitchen faucets, however, they have yet to be refined, so LetsFixitUp still recommends the one touch faucets at this juncture.
Here are some of the more popular styles to choose from:
No products found.
Thank you for taking the time to read this article. Please check back often as we are always adding new material to our site to including helpful hints and video tutorials and guides!