The Best Portable Tire Inflator / Air Compressor Guide — 2020 Review
Having the ability to inflate your tires to the right air pressure is key to driving safely as well maximizing the fuel efficiency of your vehicle. To find yourself stranded with a flat tire is not only a major inconvenience, but under certain circumstances can be outright frightening and even dangerous.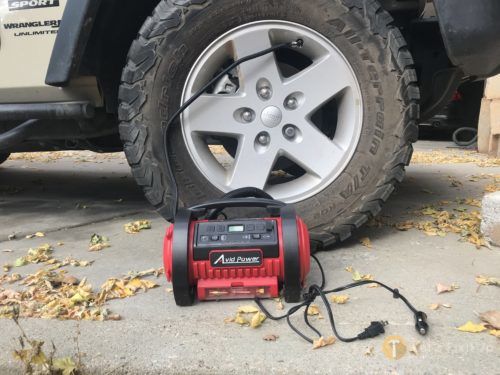 Having a No products found. in your car, equips you with the ability to inflate a flat or low tire no matter where you find yourself. Most models also have the capability to inflate balls, air mattresses and beach toys among other things.
In addition to the peace of mind owning your own tire inflator provides, it allows you to quickly and conveniently check your tires air pressure from home, this will ensure that your tires are running at the optimal tire pressure. Having this ability will increase the life of the tire, increase your cars fuel efficiency and provide for a much safer driving experience.
How is the tire inflator powered?
By standard home power outlet, 12-volt car port or cables, connect to your cars battery or does it offer a combination of power options.
Clearly if the tire inflator is purchased for use in your vehicle, you will want to select and option that is compatible with your auto power supply, which generally means a port. The jumper cable equipped models are also an option, just less convenient. We recommend purchasing a model that can be plugged into a standard house outlet in addition to your vehicles power port. Additionally, if you find that your tire is flat and your battery is dead well, how are you going to power the tire inflator to pump up your vehicles tire? LetsFixItUp recommends investing in a quality Portable Battery Charger, like the NOCO Genius Boost Pro. With this combo you will NEVER be caught without power or air!
Finally, what is the cost of the tire inflator relative to quality?
Let's find out!
Four Main Considerations When Buying a Quality Tire Inflator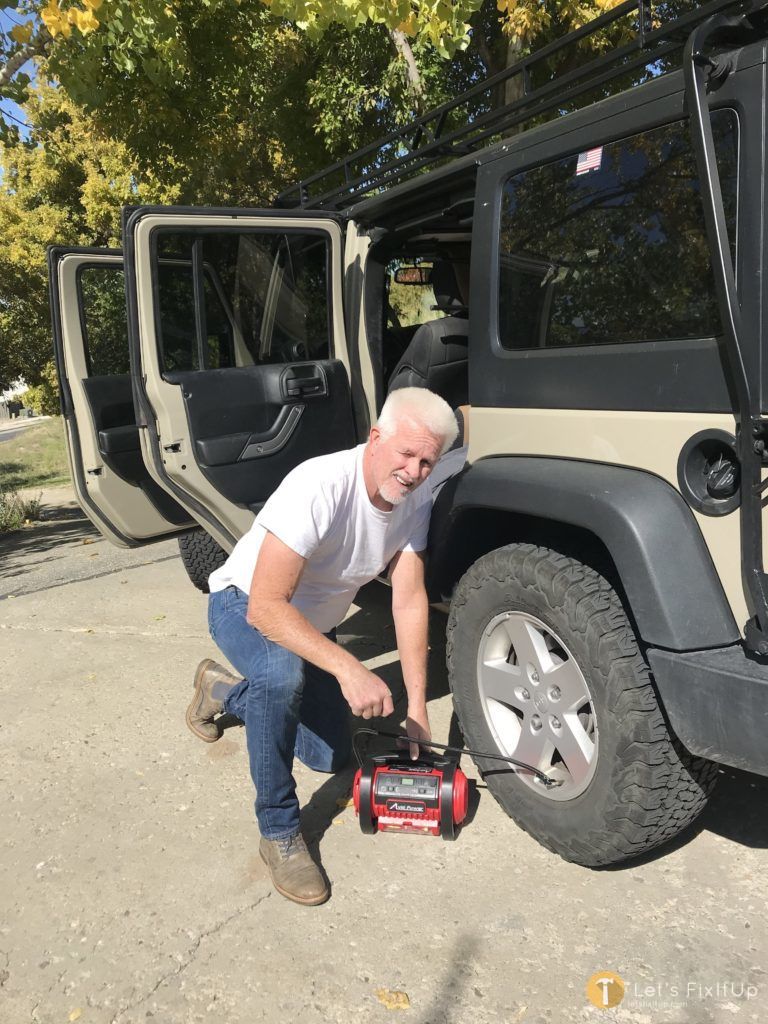 While investigating the best tire inflators & air compressors, we soon realized that there are really only about four main things that stand out as difference makers when it comes to selecting which tire inflator to purchase:
Manufacturing, which equates to quality parts.
Reliability and longevity.
Speed of inflation and maximum tire pressure capacity.
Power source.
Our Top 5 Tire Inflator / Air Compressor Choices
TOP PICK #1
No products found.
This bad boy will inflate the heavy truck tire. Letsfixitup.com loves the 3 power source capabilities!
High pressure inflation mode with automatic shutoff

High volume inflation and deflation modes

Led light helps to provide illumination

Three power sources for inflation on a job site and on the go (20v max battery, 12V DC, or 110V AC)

Convenient onboard accessory storage
#2 Next Best Choice
No products found.
If your use does not include the need for heavy truck tire inflation, then the Avid Power Dual Power is an excellent choice. Love the dual power supply capability.
#3 Choice
No products found.
This well build Tire Inflator / Air Compressor has dual power capability and is a very solid choice!
#4 Versatile Handheld Pump
No products found.
We are really high on the Avid Power Brand of tire inflators, so, it would stand to reason that if you are in the market for a more compact, hand-held model then this cordless car tire pump just might be right for you.
#5 Choice
No products found.
Amazon rates the The EPAuto 12-volt DC portable air compressor as one of the highest. At 120 watts with an inflation speed of 1.06 CFM, this pump has a maximum working pressure of 100 PSI.
There's a digital gauge that reads in four display units: PSI, KPA, BAR, and kg/cm. Like similarly priced products, EPAuto's inflator has an auto shutoff feature once it reaches the desired air pressure.
The product also has an overheat protection, which automatically shuts off the compressor when it overloads.
This air compressor rates very high on Amazons reviews list and is one of there best sellers. However, due to its DC only capability, we rate it #5 on our list.
As usual, we fervently hope that you have found this, and our other articles and tutorials helpful.