The Best Pet Door To Buy — A Guide
This review will be looking at a few of the best pet doors on the market. We will be examining some of the pros and  cons in effort to help guide you toward the best selection of cat or doggy doors to fit you and your pet's needs.
The Convenience of a Doggy Door or Cat Door
We love our pets so much and we want what is best them. Our dogs and cats are are truly members of our family, we want to provide for our pets a level of convenience and comfort. With the installation of a Pet Door, we can provide that convenience not only for our pets, but also for ourselves.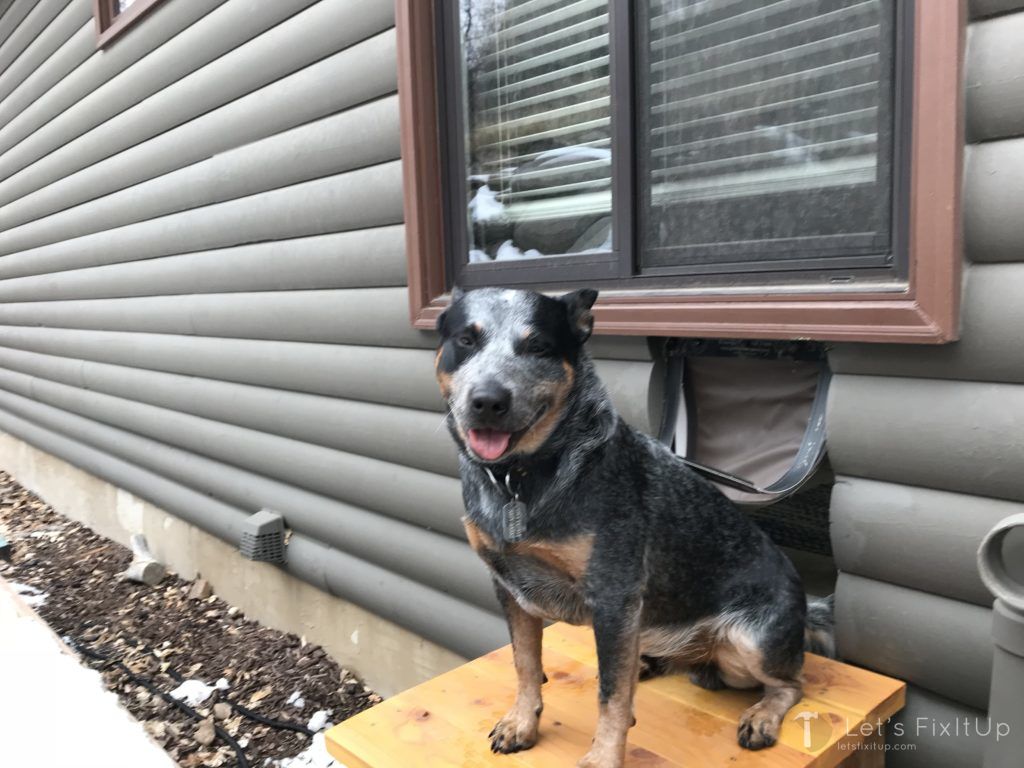 How many times a day do you have  to let your dog or cat outside, or inside for that matter?. Don't misunderstand, that's a great thing when they have to go potty, but all to often, they just wants to go outside to have a look around or just a walk about. There have been plenty of times that I found myself getting irritated and/or frustrated with the amount of times that I had to stop what I was doing to let my dog out, and then of course, another interruption when he wants back in again.
With the purchase and installation of a Pet Door, this up and down routine has virtually stopped, because now my dog can come and go as he pleases without the necessity of interrupting me or other members of the family.
Table could not be displayed.
Function of your Pet Door
There are a multitude of great Pet Doors on the market today, here are a few of the things you should look for:
Accessibility for your pet, does the door open easily enough and does it close securely
Is the area sufficient for the proper operation of the dog/cat Door?
Safety – Does the Pet Door operate safely for your pet
Functionality – Does the Dog/Cat door work well in the selected location.
Interference – With a wall mount Pet Door, make sure that you are clear of any wiring, water piping, venting etc.
Durability of your Pet Door
Pet Door Aesthetics
Aesthetics – Does the pet door look good at the selected location or does it detract and look out of place?
Cleanliness – Are there mechanisms in place to help reduce the amount of dirt, mud and various debris your pet may track in?
Can the pet door be trimmed or painted to match the surrounding area?
Read more: How to install your new pet door
Best Pet Door: Ruff-Weather Pet Door by Ideal Pet Products
No products found.
Pros
 Pet Door has an easy 4-step installation process.
Can be adjusted for larger pets.
Telescopic Feature allows for to fit your door or wall thickness.
Magnets and floating sill provide solid closure.
Contains a locking system to prevent unwanted intrusion
Cons
Plastic connections and framing may have durability issues.
Installation may require specialized tools depending on installation placement
We chose the Ruff-Weather Pet Door for the following reasons
This hard plastic pet door has a heavier, sturdier door and frame, it is made from rigid plastic and made to last
The sturdy construction allows for the ability to lock the pet door  easier and more conveniently.
The telescopic feature is so helpful, as it adjusts to various sizes.
This Dog Door is aesthetically pleasing and will blend in nicely with almost any surroundings.
Our Runner Up Dog or Cat Door
PetSafe Wall Entry Pet Door with Telescoping Tunnel, Pet Door for Dogs and Cats
No products found.
Pros
Durable, Aluminum Frame


Energy efficient double-flap design

A slide-in closing panel to control your pets access.

DIY Installation: Installs into several wall types including all types of siding, stucco and brick.

Pet Size: Available in Small, Medium or Large

Established: PetSafe brand has been an industry leading U.S. manufacturer of pet behavior, containment and lifestyle products since 1991, helping millions of people and pets each year
Cons
The telescopic tunnel fits well, but is a weak point in the overall Pet door.
Flaps are a bit stiff, and get stiffer in colder weather, some cats may experience some difficulty opening them.
If installation is not done right (evenly) there are some drafting issues.
For larger animals (40 lbs plus) the Pet door could be reinforced a little better.
Why we chose the PetSafe Wall Entry Pet Door
It received several 4-5 star ratings in the amazon review. The comments where by in large very positive.
The installation process is made simple with templates and clear to understand instructions.
PetSafe stands behind their products with quick replacement if this is ever necessary.
The Pet Door is aesthetically pleasing
Overall very good quality at a lesser price then many of its competitors.
Secure locking mechanism
Great Alternative Budget Pet Door
PetSafe Extreme Weather Energy Efficient Pet Door
Unique 3 Flap System, White Finish, for Dogs and Cats About 1/2 the cost of the Ruff-Weather Pet Door
No products found.
Pros
Energy efficient three flap system

Great for all climates

Ability to block the pet door when needed

Match your home decor and color
DIY easy installation process

Pet Size: Comes in Small, Medium and Large to fit just about any size pet
Cons
Many of the reviews that I read complained of a draft coming in. Other reviews have claimed that it prevents drafts. This leads me to believe that it is most likely an installation issue.
Complaints about plastic clips that connect the inner frames breaking
The locking door panel dislodges easily (again, possibly due to an installation problem)
Why we picked the PetSafe Extreme Weather Energy Efficient Pet Door
Received the highest rating and most positive reviews in this price range.
Half the cost of our pick for Best Pet Door
Petsafe stands behind their products (as confirmed by several reviews we read)
A door more suited for medium to smaller sized pets.
Summary
There is a huge selection of Pet Doors to chose from, Let's Fix It Up has weeded our way through them and selected three doors, in differing price ranges, that stand out to us as being the best bang for your buck.  The old axiom stands true with these Pet Doors, you really get what you pay for!
The more money that you are willing to spend, the higher quality you are going to receive. This is true relative to the type of materials used, ease of installation, aesthetics and quality of craftsmanship. The prices of the Pet Doors available vary greatly, as you can spend anywhere from $29.00 – $450.00 plus. We do not recommend either end of the spectrum here, rather, the doors that we have featured will adequately accomplish the goal of a great quality door within the price ranges shown.
We appreciate you taking the time to read our thoughts and the very best to you and your pet(s).